My last word on the matter
November 13, 2006 - Reading time: 18 minutes
Over the last few years, we've seen a growing trend - an ugly one - the increased use of Portable Electronic Devices (PEDs) on airplanes.  It's not just passengers bringing more gadgets on to planes with them, either: in 2003, Lufthansa and British Airways demonstrated a cabin 802.11b wireless system for passenger use; Qualcomm and American Airlines demonstrated an on-board mobile phone pico-cell in July 2003; recently, Boeing Connexion has been installing 802.11b wireless systems on Lufthansa airplanes. Even the FAA has been thinking about rescinding the rules requiring passengers to turn off electronic devices during takeoff and landing.
Why is this a disturbing trend? We've all seen people leave their iPods or CD players or cell phones turned on during takeoff or landing with no apparent ill effects.
The rules we have are in existence for a reason, and they may not be strict enough. I've mentioned some specific instances of PEDs interfering with aircraft systems in other posts, but I haven't mentioned the scope or technical aspects of the problem.  I'll do that in this post, but beware: this post is a bit more technical than my other posts on the subject.
First, a bit of technical discussion: how could your cell phone have any effect on an airplane?  It transmits at different frequencies than the airplane uses, right?  And what about a CD player?  It doesn't even transmit at all!
In an ideal world, those statements are correct.  However, we don't live in an ideal world; in reality, electronic devices can emit Radio Frequency (RF) waves in various seemingly random frequencies, at surprisingly high intensity.  This is called Electromagnetic Interference (EMI) and it is the root of the problem.  Devices like CD players are called "unintentional radiators," which means that they aren't designed to transmit anything, but certain components they contain may create electrical "noise" that is the same as EMI.
Though aircraft equipment is generally well shielded and protected against EMI, there are still ways that spurious signals can get in to the systems.  Aircraft navigation systems use highly sensitive high-performance devices, and high-performance systems are by nature unforgiving: the systems may block out all RF transmissions outside of their designed frequency range, but must accept all RF transmissions inside the range.  The two basic ways that EMI makes its way into aircraft systems are called "Front-door coupling" and "back-door coupling."
Front-door coupling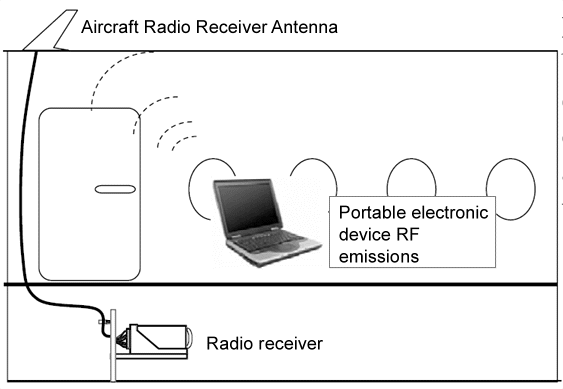 Front-door coupling occurs when PED emissions enter the aircraft radio receiver directly through the receiver antenna.  This happens when RF signals from PEDs radiate through windows, cargo and passenger door seams, and hatches to the aircraft's external antennas.  The likelihood of this type of interference is dependent on the frequency and strength of the spurious emissions, the path loss between the PED and the receiver antenna, and the sensitivity of the aircraft RF receiver.
In an example of front-door coupling, an avionics manufacturer reported the loss of GPS guidance on three separate GPS receivers during a Piper Cherokee test flight.  The interference was traced to the pilot's mobile phone emissions.  Further testing by NASA on the same phone model (but different phones) confirmed significant emissions in the GPS band: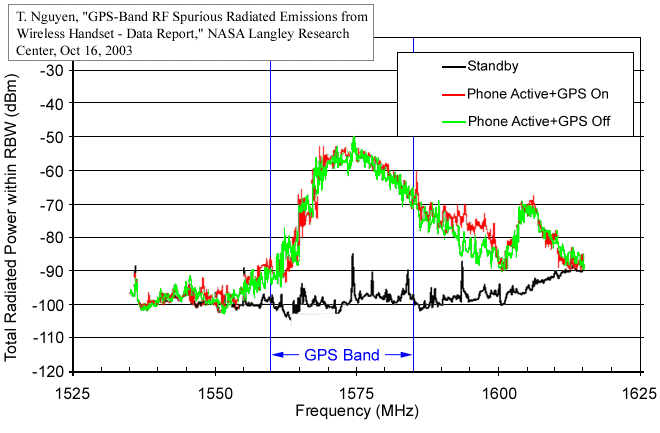 Back-door coupling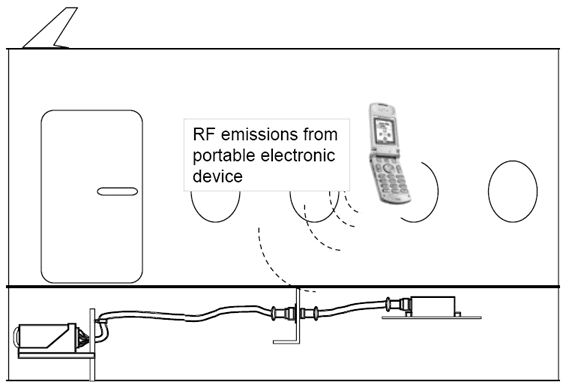 Back-door coupling occurs when emissions radiated by PEDs couple directly to aircraft wiring and avionics.  The primary concern for back-door coupling is from intentional PED transmitters, i.e. mobile phones, wireless RF network radios (i.e. 802.11b), wireless PDAs, two-way pagers, or walkie-talkies.  The effective radiated powers from these devices can range from a few milliwatts to several watts: a 2 watt mobile phone can have RF signals of around 15 v/m at 0.5m!  Aircraft systems have a wide range of immunity to back door RF coupling; some systems are very well protected but others lack sufficient protection.  Avionics systems with failure modes listed as "catastrophic" or "hazardous" that have been certified since the early 1990s should be immune to mobile phone back-door coupling, but tests have shown that while they may be theoretically immune, in practice this varies.
So how often does this actually happen?  NASA's Aviation Safety Reporting System (ASRS) issued a report in 2004 that compiled data on incidents between 1995 and 2002.  These data reflect reported incidents where PED interference was actually verified; the actual number of incidents is likely to be much higher.  As stated in the ASRS Database Report Set: "ASRS reports are submitted voluntarily.  The existence in the ASRS database of reports concerning a specific topic cannot, therefore, be used to infer the prevalence of that problem within the National Airspace System.  [ASRS reports] cannot be considered a measured random sample of the full population of like events.  For example, we receive several thousand altitude deviation reports each year.  This number may comprise over half of all the altitude deviations that occur, or it may just be a small fraction of total occurrences. [...]  One thing that can be known from ASRS statistics is that they represent the lower measure of the true number of such events that are occurring."
Keeping that in mind, let's look at some of the statistics.  First, the number of reported incidents, based on the navigation system affected: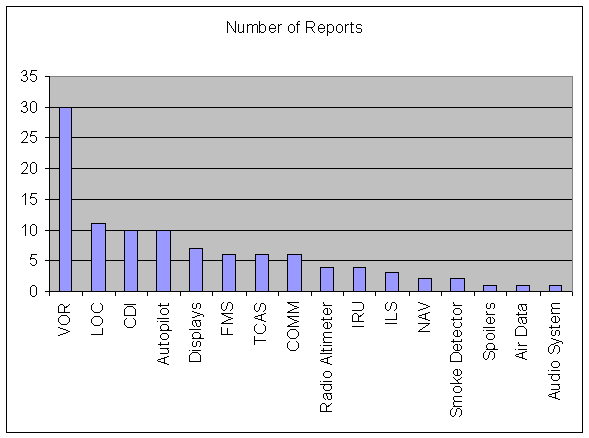 From this we see that the majority of reported incidents affected the VHF Omnidirectional Range (VOR) system.  The VOR is a commonly used radio navigation system.  VORs broadcast a VHF radio signal that pilots use for direction reference.  An interesting note here is that the VOR system operates on a radio frequency between 108.0MHz and 117.95MHz, which is in the VHF range.  VHF was chosen because it travels only in straight lines and resists bending due to atmospheric effects - this makes it very reliable as a direction-finding tool.  This also puts it well out of the reported frequency range of any cell phones, GPS units, wireless data devices, or anything else an airline passenger is likely to have on board.  Yet it is the most commonly interfered with.  Why?  Because consumer devices commonly emit frequencies well outside their approved range (see the earlier cell phone/GPS example).  Since there aren't many devices these days that use the VHF band, we normally don't notice this interference.
It's not just old airplanes that are affected, either, though in all fairness the majority of reported cases occurred in older airplanes: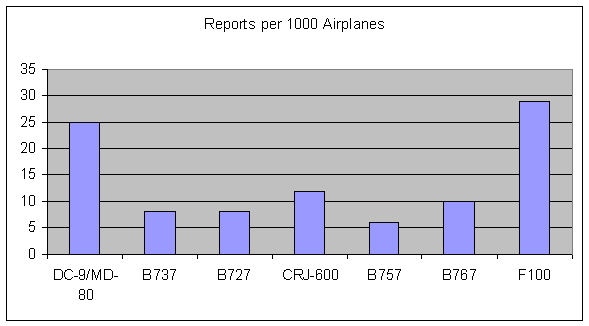 And oddly enough, cell phones aren't the biggest offenders, though they are a close second: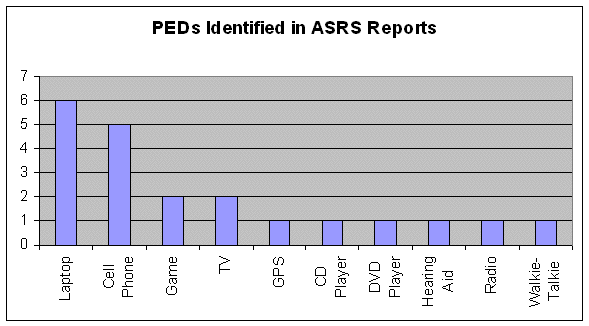 All of this begs the question: how are these incidents verified?  How do we know that the causes of these incidents are PEDs, and not just faulty aircraft systems?  In most cases, it is not possible to objectively verify the offending PED, but pilots do generally try to get an idea of what has happened: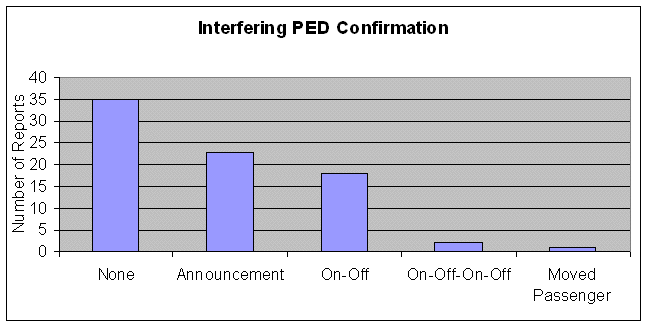 Pilot reports to the ASRS tell the story as well.  The following narratives are as reported by pilots to the anonymous ASRS incident tracking system.  Though there is a bit of jargon, after reading one or two of the reports it's easy to pick up.  I've inserted some comments in red on the reports as a guideline.
Aircraft: DC-9 Undifferentiated or Other Model
DURING CLB [CLB = climb] AND WHILE TALKING TO SDF [SDF = Louisville Standiford International Airport] DEP [DEP = departure traffic control], WE GOT A TCAS RA [TCAS RA: TCAS = Traffic Alert and Collision Avoidance System; RA = Resolution Advisory; When the TCAS detects another aircraft directly in your aircraft's path, the TCAS will alert the pilots of both aircraft and instruct them on the proper evasive action, i.e. one pilot is told to climb while the other is told to descend.  It is imperative that pilots immediately perform the recommended action to avoid collisions.] SHOWING A TARGET AT 12:00 O'CLOCK, LEVEL AND SHOWING A CLB.  TCASII COMMANDED A FULL SCALE (6000 FPM) [FPM = Feet Per Minute] CLB AND I AS PF INCREASED CLB RATE TO 3000 FPM (THE MAX WE COULD SAFELY DO).  WE CALLED SDF DEP TO RPT THE RA AND ASK ABOUT THE TARGET.  HE SAID HE HAD NO TARGET WITHIN 5 MILES OF US, SO I HIT THE TCAS PRESS TO TEST BUTTON.  TCAS TEST RPTED 'TEST OK.'  I THEN ASKED THE LEAD FA TO DO A PED WALK AND HE RPTED BACK THAT A COMPUTER WAS IN USE IN VIOLATION OF THE STERILE ENVIRONMENT CONDITION.  THE COMPUTER, A 'DELL INSPIRATION 8000,' WITH RPTEDLY NO XMISSION CAPABILITY AND NO EXTERNAL POWER PACK, WAS SHUTDOWN FOR THE REMAINDER OF THE FLT AND TCAS FUNCTIONED NORMALLY WITH NO FURTHER FALSE RA'S OR TA'S.
Aircraft: B767 Undifferentiated or Other Model
INSTRUMENT MALFUNCTION AUTOPLT ABNORMALITY.  CLR OF CLOUDS, FL350, ECON CRUISE 'MACH .78,' SMOOTH AIR.  THE FO WAS FLYING THIS LEG WHEN 30 NM NE OF LEFKO INTXN ON GREEN 26 PROCEEDING DIRECT TO REDFIN, JAX CENTER CLRED US DIRECT REMIS FOR A WARNING AREA HAD GONE ACTIVE.  AT APPROX XA:44 ENE OF REMISS WE ENCOUNTERED THE EVENT.  FIRST THING I NOTICED WAS THE AMBER AUTOPLT AND AUTO THROTTLE EICAS MSG AND AUDIBLE ALERT FOR A DISCONNECT.  WE ALSO NOTICED SOLID YELLOW LINES THAT WENT THROUGH ALL FLT MGMNT CTL DATA ON BOTH CAPT AND FO ADI'S AND HSI'S.  I LOOKED AT THE TOP EICAS ENG INSTRUMENT AND NOTED NO N1 OR EGT DIGITAL READOUTS, ONLY WHITE CIRCLES REMAINED.  LOWER EICAS REFLECTED THE SAME.  NO DIGITAL INFO FOR F2, FF, OIL PRESSURE, OIL TEMP, OIL QUANTITY, VIB.  BOTH CDU'S WERE BLANK.  AN IMMEDIATE CHK OF THE ELECTRICAL PANEL INDICATED NO MALFUNCTIONS, A TEST OF INDICATOR LIGHTS REVEALED NO BURNED OUT LIGHTS.  CENTER AUTOPLT WAS ENGAGED AND SHOWING PANEL ACTIVE WITH NORMAL INDICATIONS.  STANDBY ADI INDICATED WE WERE STARTING A LEFT BANK.  WITH WARNING OF AUTOPLT AND AUTO THROTTLE DISCONNECT I GRABBED THE YOKE AND HIT THE AUTOPLT DISCONNECT SWITCH AND DIRECTED THE FO TO FLY.  HE MAINTAINED LEVEL FLT AND STATED THAT THE AUTOPLT WAS STILL ENGAGED.  I ATTEMPTED TO DISENGAGE THE AUTOPLT WITH THE DISENGAGE BAR BY PULLING IT DOWN AND WAITING.  THE WHITE AUTOPLT CMD LIGHT REMAINED ON.  I WENT BACK TO THE YOKE AND AGAIN HIT THE DISCONNECT AND FELT THE YOKE PRESSURE THE FO WAS HOLDING.
[Brief synopsis: while flying, an alarm sounded indicating that the autopilot had disengaged itself.  The following displays that indicate the status of the aircraft stopped functioning: ADI (Attitude Direction Indicator), HDI (Horizontal Situation Indicator), EICAS (Engine Indication and Crew Alerting System - the acronyms the pilot references on this system are N1 (compressor rotational speed), EGT (exhaust gas temperature), and FF (fuel flow)), CDU (cockpit display unit, a radar display).  The pilot performed several system checks which all claimed that equipment was functioning normally.  When the plane started making an uncommanded left turn, the pilot attempted to manually disengage the autopilot (which was still operating despite the warning saying it had stopped) but was unable to.]
I CALLED ATC AND ADVISED WE WERE HAVING SOME KIND OF AN ELECTRICAL ANOMALY.  JUST AFTER THE CALL TO ATC THE AUTOPLT DISENGAGED AND THE WHITE CMD LIGHT WENT OUT AND ALL SYSTEMS RETURNED TO NORMAL OPS.  I DIRECTED THE FA 1 TO SEARCH THE ACFT FOR UNAUTHORIZED ELECTRONIC EQUIP BEING USED.  I THEN RPTED TO ATC THAT OPS WERE NORMAL.  THE EVENT LASTED APPROX 45 SECS.  [...] FA 1 RPTED A CELL PHONE WAS IN USE BY PAX.  I DIRECTED FA 1 TO HAVE IT TURNED OFF AND CONFISCATED TO ME.  PAX STATED IT WAS A NEW PHONE BY AT&T, MODEL SIEMENS CEO168, HE WAS INSTALLING NEW PHONE NUMBERS IN DATA BANK AND NOT TALKING ON PHONE.  MAINT WAS CALLED AND STATED THE ACFT HAD NO PREVIOUS HISTORY OF THIS TYPE OF EVENT.  ONE AREA OF CONCERN WAS A POTABLE WATER TANK GAUGE QUANTITY PROB.  THE FO AND I COMPLETED A COMPLETE SYSTEMS CHK CONCLUDING OPS NORMAL.  WITH PASSENGER'S CELL PHONE OFF AND IN MY POSSESSION THE FO AND I AGREED WITH DISPATCHER TO CONTINUE THE FLT WITH CAVEAT THAT SHOULD ANY OTHER SIMILAR EVENT OCCUR WE WOULD LAND ASAP.  [...] FROM NAVIGATION POINT REMISS WE PROCEEDED UNEVENTFULLY TO SFO.  [...] THE CELL PHONE THAT WAS ON AT THE SAME TIME IS RPTED TO BE A POWERFUL NEW TYPE IN THE SEARCH MODE.  THE LOCATION OF THE PHONE DURING THE INCIDENT WAS THE CABIN AT SEAT ROW X WHICH IS ROUGHLY ABOVE THE ELECTRONICS AREA.  DURING THE FAILURE THE STANDBY ENG INSTRUMENTS ACTIVATED.
Aircraft: B737-500
NAV INTERFERENCE.  OVER CHT, CLRED '10 DEGS R INTERCEPT LOC RWY 31L PLAN CIRCLE RWY 22L.'  UPON TUNING LOC FREQ AND SETTING COURSE, IT APPEARED WE WERE ON THE LOC, ALTHOUGH VISUALLY WE APPEARED S OF COURSE.  ATC ASKED IF WE HAD INTERCEPTED AND SAID WE WERE S OF COURSE.  THE CDI THEN SWUNG FULL SCALE TO THE OTHER SIDE INDICATING WE WERE N OF COURSE.  I TURNED TO CTR AND THE CDI AND WE SWITCHED TO TWR.  MY CDI SWUNG R INDICATING WE WERE S OF COURSE.  I NOTICED THE FO'S CDI WAS SWINGING THE SAME DIRECTION AS MINE, BUT MOVING ABOUT HALF AS FAR.  WHEN WE SAW THE RWY, WE WERE N OF COURSE WITH CDI'S INDICATING WE WERE S OF COURSE.  WE WERE HIGH AND WELL N OF COURSE WHEN TWR ASKED IF WE COULD GET DOWN FROM THERE.  WE ASKED TO BE TURNED OUT TO RE-ENTER THE PATTERN, UPON TURNING OUTBOUND WE MADE A PA ASKING PEOPLE TO PLEASE MAKE SURE THEIR CELL PHONES AND OTHER EQUIP WERE TURNED OFF.  THE CDI'S IMMEDIATELY BECAME STEADY AND WE COMPLETED A NORMAL ILS RWY 31C CIRCLE RWY22L WITH NORMAL INDICATIONS AND THE FLT ATTENDANTS RPTED THAT A WOMAN IN THE FORWARD LOUNGE WAS TALKING ON HER CELL PHONE.  AS SOON AS SHE TURNED HER PHONE OFF, OUR CDI INDICATED NORMALLY.
Aircraft: B737-300
AT CRUISE ALT OF FL310 WITH RADAR 'ON,' ALL 4 EFIS DISPLAY UNITS STARTED FLASHING AND BLANKING OUT, ACCOMPANIED WITH A YELLOW 'WX RADAR SOURCE' WARNING FLAG ON BOTH EHSI DISPLAY UNITS.  I TURNED BOTH RADARS 'OFF.'  ALL DISPLAY UNITS STOPPED FLASHING AND BLANKING OUT.  I TURNED FO'S RADAR BACK 'ON,' FLASHING SEEMED TO HAVE STOPPED.  FLT ATTENDANT CAME TO THE COCKPIT AND ADVISED THAT 2 PAX HAD WALKIE-TALKIE TYPE HEADSETS (MODEL DIGI-TECH DSI) ON AND THEY WERE TALKING TO EACH OTHER.  THEY WERE SITTING IN DIFFERENT PARTS OF THE CABIN.  I ADVISED THE FLT ATTENDANT TO HAVE THEM TURN 'OFF' AND DISCONTINUE USING THE HEADSETS.  I TURNED BOTH RADARS BACK 'ON,' RADARS AND ALL 4 EFIS DISPLAY UNITS WORKED NORMAL FOR THE REMAINDER OF THE FLT.
Aircraft: Brasilia EMB-120 All Series
I EXPERIENCED INTERFERENCE WITH VOR NAVIGATION RECEPTION.  WE FOUND A PAX IN SEAT XA, OPERATING A 300MHZ TOSHIBA PROTOGE LAPTOP COMPUTER.  WE HAD HER DISCONTINUE USE OF THE COMPUTER AND NORMAL RECEPTION WAS RESTORED.  I HAVE HAD PREVIOUS PROBLEMS WITH TOSHIBA COMPUTERS THAT ARE USED IN ROW X.  I WILL NOT LIMIT THE USE OF PAX ELECTRONIC DEVICES YET, HOWEVER I NOW IMMEDIATELY CHECK TO SEE IF A LAPTOP IS ON WHEN EXPERIENCING PROBLEMS.  CALLBACK CONVERSATION WITH RPTR REVEALED THE FOLLOWING INFO: THE RPTR STATED THAT THE SAME EXACT INCIDENT OCCURRED ON A DIFFERENT EMB120 AT ROW X AND WITH A TOSHIBA LAPTOP COMPUTER.  THAT TIME, THEY WERE AT MCCALISTER VOR, WHEN THE VOR NEEDLES ON THE MFD (MULTIFUNCTION DISPLAY) WENT CRAZY AND WERE SPINNING IN CIRCLES.  IN BOTH CASES, IT WAS SPINNING IN CIRCLES ON BOTH NAV 1 AND NAV 2.  THE RPTR GUESSED IT WAS A LAPTOP COMPUTER CAUSING IT AND HAD THE FLT ATTENDANT CHECK IT OUT AND HAD THE PERSON TURN IT OFF.  AFTER THE VOR RETURNED TO NORMAL, THE RPTR ASKED THE FLT ATTENDANT TO HAVE THE PAX TURN IT BACK ON TO SEE WHAT WOULD HAPPEN, AND THE INSTRUMENTS RESUMED TO ALMOST A NORMAL POSITION, BUT IT WAS 40 DEGREES OFF FROM ATC.  HE SAID ROW X IS THE FIRST ROW BEHIND THE TRAILING EDGE OF THE WING, AND SPECULATES THAT THIS MAY HAVE SOMETHING TO DO WITH THE WING'S WIRING OR AN INSTRUMENT UNDER THE WING.



Decoding the pilot reports is a bit daunting, but I feel that actual reports mean more than just numbers.  What we can gather from the reports, and the statistics, is that during ideal weather and flight conditions, it is easily possible to recover from the interference caused by PEDs.  However, those corrections could lead to other hazards (what if the TCAS in the first report had erroneously instructed the pilot to climb in to the path of another aircraft?), and in low-visibility conditions they could cause a pilot to send his aircraft off course, land on an incorrect runway, or miss a runway altogether.  Of course this is all speculation, but there is documented evidence that makes such speculation worthwhile: if we are willing to say "better safe than sorry" when we're told we can't bring toothpaste and deodorant on to an airplane, why should we react differently when asked to turn off our electronic devices?  There are many more documented instances of PEDs causing potentially hazardous situations than there are of terrorists using mouthwash to bring down an aircraft.  Sadly, though nobody had to die for us to recognize the possible hazards of unknown chemicals, I really do believe that we won't hear the voice of reason until a serious incident occurs that is directly traced back to a PED.  That incident will terrorize the nation, but it probably won't be terrorism - it will just be us learning that dangers we don't understand do exist and can hurt us.